4 tags
They put me on television
My favorite part is when Emily Rooney says that what I do is horrible (@6:12). In all seriousness, it was really cool of WGBH to ask me to come on and join in the conversation, and I'd like to thank the producers of Greater Boston for the opportunity. I'm always happy to talk about biking, and how we can make it even better. -JZ
4 tags
Becoming a statistic
We've all probably heard about the importance of getting a police report after a crash, but it doesn't always seem worth the trouble. Why bother if you weren't even hurt? Getting hit by a car is just about the worst thing there is, so it's understandable that you'd just want to go on with your life and not get the police involved. But there's one very important reason why you should always file...
4 tags
Guest post: Bikes & Birds!
Male and female Eastern Bluebirds, looking adorable (photo by Stu Watson) The following is a guest post from my dear friend, the esteemed naturalist Stuart Watson.  He's the author of regarding nature, an excellent blog that chronicles his adventures in the Massachusetts woods (you should follow him on twitter).   Stu and I have been friends since the 7th grade, which explains why he was...
Anonymous asked: How long is the logo going to be all black?
4 tags
3 tags
Just when we thought it was over
The craziness of the past 12 hours is hard to imagine.  I stayed up listening to the police scanner and reading twitter till 5:00 AM. My apartment is right on Mass Ave, overlooking the intersection at Main Street.  For those of you who are unfamiliar with the area, it's about three blocks from where MIT Police Officer Sean Collier was fatally shot last night.  I pass by the spot twice...
3 tags
A tragedy in Boston
I don't really know what to write here.  It's 4:00 PM and I'm sitting in my office, trying to figure out how to get back home to Cambridge.  This has been a terrible day. Riding the marathon route last night was one of the best times I've had in recent memory.  It was one of those perfect memories that you can carry with you as an example of the best of times.  There...
4 tags
Midnight Marathon Ride
The 5th annual Midnight Marathon Ride is coming up, and I'm super excited about it.  This will be my first time participating in the ride, and it looks like there's gonna be a record turnout.  Tickets for the special "bikes only" commuter rail train to the start of the ride sold out in less than 8 hours! In preparing for this epic event, I wanted to remind everyone...
4 tags
Thoughts on Portland
I got back from Portland, OR last week, and I've been meaning to write about some of the fantastic experiences I had there.  However, as I started to compose the post, I realized that quite a bit of what I was writing fell into either one (or both) of the following categories: a. things you probably wouldn't care about b. things I cannot disclose for confidentiality reasons So...
3 tags
A trip to Portland
Next week (3/18-3/25), I'm heading for one of America's bikey-est cities: Portland, OR! I've never been to the Portland before, and I'm quite excited to make the trip.  Pretty much everything I know about the city comes from Portlandia (which I've heard is remarkably accurate).   I'm going to be out there on business, but I'm sure I'll have...
5 tags
The Straight and Narrow
The shortest distance between two points is a straight line.  However, when riding in traffic, many bikers are tempted to stray from this most efficient route.  A bent path can be helpful in a number of situations (to avoid an open door, turning car, or pothole), but there's one situation where a momentary deviation is not recommended: intersections. [[MORE]] Instinct tells many riders...
4 tags
1 tag
The Best and Brightest
I asked, and you delivered—over 300 entries came in this past week!  Thank you so much for your enthusiasm and for all the great suggestions you sent.  It was tough, but I've narrowed them down to the following 10 finalists:[[MORE]] The Magistrate - layin' down the law, so badass. La Flama Blanca - I like the show that this is (probably) from. the Cuttlefish - cutest fish name in...
3 tags
Name my bike, please!
Over the past few weeks, I've been inundated with email about my bike from people all over the world who are interested in its many features.  As I struggled to respond, I realized that there's still one thing that my bike is missing: a name. I've never been any good at this sort of thing—that's why I'm holding a contest to give away a retro-reflective wheel set to the...
5 tags
The Safest Bike on the Road
About a year ago I decided that I wanted to make the safest transportation bike on the road.  This is the result.[[MORE]] It has a dynamo hub in the front, which powers the LED headlight and daytime running lights.  It also has a special tail light that monitors the voltage coming from the front wheel, and when it senses that you're braking, it lets cars behind you know by getting momentarily...
3 tags
The Helmet Dilemma
If you're a Boston biker, you probably heard about the Boston Public Health Commission's recent helmet campaign.  In an attempt to encourage bikers to wear helmets, the BPHC commissioned graphic posters (see below) of injured cyclists which were displayed prominently around the city. I recently met with Nick Martin, the Director of Communications at the Boston Public Health Commission, to...
3 tags
Anonymous asked: It's school season again which, of course, means big, slow yellow busses. Are cyclists required, like cars, to stop in both directions? What about passing when there is no stop sign deployed? I don't think I would bomb around a school bus out of reasonable fear of hitting a child, but what's the law got to say about this?
4 tags
Reinforcements!
A year ago today I received the first shipment of the original Bicyclist's Accident Report cards.  Since then, over 10,000 of the Massachusetts version* have been printed and distributed throughout the state. Three weeks ago, I realized that I was down to my last few boxes.  Time for a refresh.[[MORE]] For this version of the Bicyclist's Accident Report, I've partnered with Boston...
2 tags
omgdualies asked: What is my responsibility if my bike tire flicks a rock at something and causes damage?
4 tags
Ride Like A Vehicle, Pt. 1: the Left Cross
IMAGE via WABA Under the law of nearly every state, bikes are vehicles.  So what does that mean for you?  This is the first post in a series that will take a look at the rights and responsibilities that come with vehiclehood.                                                                   ⬣ ⬣ ⬣ Just as you enter the intersection, that asshole in the silver Audi takes a surprise left turn in...
6 tags
Anonymous asked: Today I was riding in the breakdown lane on rt 37, and traffic was backed up for miles. A large cargo van had left an intersection open, and a truck coming the opposite way made a very fast, very sharp left hand turn, just barely missing me. My road did not have a light or stop sign. If he had hit me, who would have been at fault?
3 tags
Your body is an idiot
Thanks to evolution, there are hormones in our bodies that will turn even the frailest weakling into a car-lifting superman.  In an emergency situation, adrenaline boosts your heart rate, slows digestive functions, and increases the amount of oxygen and glucose that get to your brain and muscles, making you capable of superhuman feats. It also restricts your ability to feel pain. [[MORE]] ...
3 tags
First Annual Walk Bike Week in Newton, MA
I was asked to pass this along by Newton Transportation Advisory Group.  Yes, it's a local event, but I think it should still be relevant to my readers outside of Massachusetts. As more and more places decide to officially recognize biking in this way, our culture will continue to adapt to accommodate more bikes on the roads.  This is the sort of celebration that should be going on...
3 tags
Anonymous asked: Say you're entitled to a settlement from a bike accident- do you have any answers or resources explaining how that would be taxed? Or any tips that pertain to this type of tax and cycling specifically?
3 tags
#DearDrivers, we have a winner
Pass the coffee milk and alert the ProJo—James in Providence, RI has won the #DearDrivers twitter contest!  I'll be sending him a Light & Motion Vis 360 in this afternoon's mail.  Here's his winning tweet: #DearDrivers see you at the next stoplight! — Car Free in PVD (@carfreepvd) August 31, 2012 It's simple and to the point, and there's a friendly...
3 tags
Win this light, please!
UPDATE: We have a winner. The fine folks at Light & Motion recently sent me some of their lights to review. As an added bonus, they threw in this one for me to give away to one of my loyal readers.  I've decided to hold a twitter contest to figure out who gets it. To enter, you need only post a tweet that includes the following hashtag: #DearDrivers. The idea is that you're...
3 tags
Guest post: Dewey Cyr, "Real Pops"
I've always found myself drawn to bike-based companies. There's something about harnessing the power and simplicity of a bicycle to do business that intrigues me. I think it's the combination of easy customization, inherent mobility, and fun—it gets me every time. So when I found out that a friend was starting a bike-centric popsicle company through Kickstarter, I insisted that she write a post...
4 tags
roosto asked: I've seen you say many times, "In Mass, in the event of an accident, a cyclist is automatically at fault if she is not obeying traffic laws." Does it then follow that a cyclist who has been struck by a car at night would automatically be at fault if she did not have the required front light + rear reflector?
3 tags
Anonymous asked: Bike bill of rights for Texas?
3 tags
The danger of riding unplugged
As bikers, we know to watch out for car doors, erratic drivers, and rogue pedestrians. But not everyone knows to look out for the hidden danger right at their fingertips. Bar end plugs are little plastic pieces that fit snugly into the holes at the ends of your handlebars.  Every new bike comes with them, but sometimes they fall out along the way.  If that happens on your bike, make sure that...
4 tags
Anonymous asked: I've heard that being cited in Ca for a vehicle code violation (e.g. running red lights..) counts against the miscreant's driving record point count and can thus impact his/her automobile insurance (should said cyclist own a motor vehicle..) and ultimately his/her "driving privilege"as it's known here in Ca Davidabl--Owner of multiple bicycles, motorcycles and a single 4...
3 tags
Anonymous asked: Who is responsible for damages to an auto that a rider crashes into as a result of dooring?
6 tags
Don't answer the door!
We can all agree: dooring is the worst.  It's the crash that comes out of nowhere and packs a serious punch.  Unpredictable and ruthlessly efficient, it's no wonder that dooring is often called "the Spanish Inquisition of bicycle crashes." [[MORE]] Fortunately, dooring a cyclist is illegal in nearly every state with comprehensive bike laws on the books.  In MA, General...
3 tags
Anonymous asked: I've got a question for you and other experienced cyclists: How do you signal to a motorist who has just exited his car that you are coming up on him. This happens to me pretty frequently, I avoid getting doored, but I'm scared to hit the guy as he steps out of his car, so I yell "Heads up." Typically they freak out and throw themselves against their cars so as to stay out of...
3 tags
Anonymous asked: So I got ticketed today. Now it was a warning, nothing serious, but it peeved me nevertheless. The thing is I'm not sure if what I did was an actually offense. Understandably putting a foot down at a red lights is a maxim for cyclist, but what about pedestrian walk ways? I'm talking about ones with no lights. Now it makes sense that cars shouldn't be allowed to pass - but cyclist?...
2 tags
Anonymous asked: What is the legality of prohibitions on bicycles on standard roads? For example, there are signs prohibiting bikes on Alewife Brook parkway.
3 tags
huybm asked: Do I still need lights if I have reflectors?
4 tags
Your kindness is killing me!
Maybe it's the low speed, or the likelihood of establishing eye contact, but for some reason a 4-way stop seems to turn even the most truculent drivers into the epitome of grace and courtesy. "After you, little one, I insist!  The day is hot and I am in no rush—please, go ahead!" I imagine them saying, as they emphatically gesture for me to cross in front of them.   [[MORE]] ...
4 tags
No cutting!
Remember that one kid in school?  The one Teacher trusted to erase the chalkboard at the end of the day?  He was always picked to be line leader, and was eventually promoted to Hall Monitor. No one liked that kid. [[MORE]]That's because blind allegiance to the rules is stupid.  Rules exist for a reason, but as we all know there are plenty of times where rules can be bent without any...
5 tags
What lies upstream
I was recently asked to do a post about "salmoning."  For those of you who aren't in the know (I had no idea), "salmoning" is a cute way to refer to the practice of riding your bike the wrong way down a one-way street.  You're going upstream, get it?  Cute. [[MORE]] I would explain that it's illegal for vehicles (including bikes) to go the wrong way in...
5 tags
Anonymous asked: In the Metro Boston area there has been increased enforcement of bicycle laws with tickets being given to bike riding offenders. Do you think that more rigorous enforcement of pedestrian laws would be beneficial for creating a culture of lawfulness on our roads?
2 tags
This bell tolls for thee!
There are lots of great reasons to outfit your bike with a bell, but here's one you may not expect. [[MORE]]According to Massachusetts General Law Ch. 85 § 11B, whenever you're riding on the sidewalk, you must "give an audible signal before overtaking and passing any pedestrian." As I've discussed before, if you injure someone while you're breaking a law...
3 tags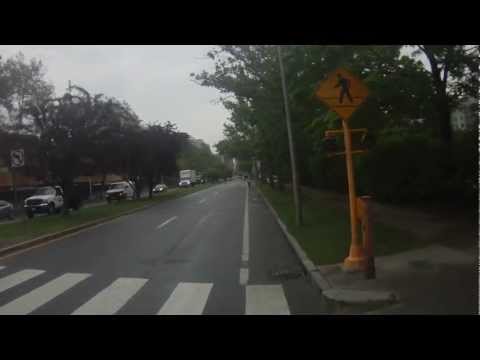 4 tags
Rush Hour Race update
I won! It was my first race ever, and I came in first.  I'm batting 1,000. Maybe it's time to retire, while I'm still on top.[[MORE]] Thanks again to LivableStreets for asking me to participate, I had a blast.  If you don't know about LivableStreets, definitely check them out.  It's a really great organization, and they're always looking for new members. ...
5 tags
The case against fixies
It's time to face the facts: fixies are unsafe.   Actually, let me rephrase that: riding a fixie in traffic is unsafe.  Especially without brakes. I know this post will do nothing to endear me to any of the legion of fixed gear enthusiasts out there, particularly not after I already denounced their favorite pastime.  But it's the truth.  Fixies belong on a track, not in...
6 tags
The Rush Hour Race
I have a confession to make: I'm not a racer.  That's why I think it's a little funny that I've committed to represent all cyclists in the Rush Hour Race. [[MORE]] On May 14th, a driver, an MBTA rider, and a biker will be racing from Davis Square to Kendall Square to prove which mode of transport reigns supreme.  And I'm gonna be the biker. It's all part of...
1 tag
Anonymous asked: I recently got in an accident with a car in Boston, where the car passed me, then turned right in front of me. They stopped short to avoid killing a jay-walking pedestrian, but I hit them from behind, sending me to the ER with a broken nose and teeth and a concussion. Is there a law in mass that would protect me in this situation? In a car, if I had hit him, I would probably be at fault, but...
3 tags
Bike Safe Nation
Dear fellow cyclist, I'd like to introduce you to our next big project: Bike Safe Nation. This is something that has been in the works for a very long time, and I truly believe that it has the potential to revolutionize bike safety. I'm absolutely thrilled to be taking the first steps towards making it happen. [[MORE]] Bike Safe Nation is the name that we're giving to our...
3 tags
Planet Bike (Safe)
I'm proud to announce that we've formed a partnership with the fine folks at Planet Bike to help bring the Bicyclist's Accident Report to bikers in every state! [[MORE]] As you may know, Planet Bike gives an astounding 25% of their profits to bike advocacy every year.  Since hearing about our plans, they've graciously offered to cover the printing costs so that we can...
4 tags
Bridgetown Ho!
9/15/12 UPDATE: New locations are being added every day, let me know if I need to update the list. It's taken a little while, but the Bicyclist's Accident Report has finally come to Portlandia, thanks to my pals at The Sprocket Podcast!   Loosely focused on bikes, booze, and alternative transportation, the show makes its way into an assortment of other topics as its hosts discuss...